The Guilded Age of the Adirondacks and the heyday of the Great Camps 1870-1930



Acknowledgement: Great Camps of the Adirondacks; By Harvey H. Kaiser Architect and Professor at Syracuse University; David R. Godine, Publisher inc. Box 9103 Lincoln Massachusetts 01733 .


The great camps of the Adirondacks represent a unique episode in American Architectural history. From the end of the Civil War to the beginning of the great Depression, a group of industrialists, financiers, and railroad builders came to northern New York to build family vacation retreats. The Adirondack mountain region provided them with the opportunity to assemble large private holdings enclosing lakes, ponds, rivers, and forests set within a region on the verge of exploitation.
Many of the preserves of lands, the clubs, and the private camps they built were similar in design and construction. What became known as Adirondacks style, characterized by the use of native timber and stone and constructed by locally available labor, emerges in the rustic designs.
Toward the end of the nineteenth century, along with the hunters and the fishermen who penetrated the wilderness to enjoy the pleasures of the outdoors and the areas abundant fish and game, came the wealthy of the Eastern establishment. They accepted the challenges of the hostile Adirondack environment and built their private retreats, often more complex and extensive than those of Newport or Saratoga. Comfort and luxury coexisted with a vague concept of 'roughing it'. Camps evolved into complexes of unique and elaborate architectural forms.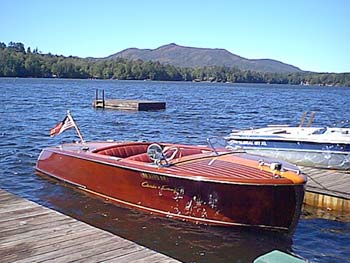 Spitfire and Upper St. Regis Lakes
Today, Upper St. Regis and Spitfire Lake are home to some of the most elegant and famous Great Camps in the Adirondacks including Marjorie Merriweather Post's Camp Topridge, consisting of over sixty five separate buildings.
Protected and very private, these lakes also boast one of the oldest inland yacht clubs in America, the St. Regis Yacht Club, founded in 1897. These lakes are also famous for their very unique one-design class of sailboats known as 'Idems'. These boats measure about 32 feet in length and carry over 600 square feet of sail area. Every summer these rare boats compete in a series of regattas for the coveted St. Regis Yacht Club Cup. Today, these Idems represent one of the oldest one-design class of sailing boats still racing in America.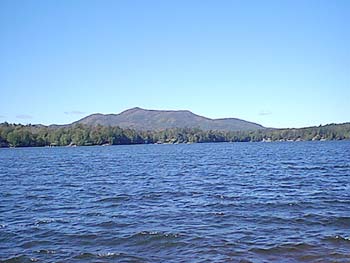 View of St. Regis Mountain from Spitfire Lake